Pro-Lifers Plan Major Anti-Obama Demonstration at Dem Conventions
Pro-life activists are planning a major demonstration highlighting the pro-abortion record of President Barack Obama at the summer Democratic convention where he is expected to become the party's nominee for another four-year term The pro-life advocates behind the expected protests announced their plans at a news conference on Friday and said they will be active on-site at the Time Warner Arena, the site of the DNC convention in Charlotte, North Carolina. The organizations plan to publicly highlight the "radical pro-abortion policies of President Obama along with his hostility toward religious freedom." "Abortion and religious freedom will be major issues in the 2012 Presidential election campaign," they say.
Romney Adviser Put in Place Born Alive Law Obama Opposed
Republican presidential candidate Mitt Romney has as a top adviser the former Bush HHS Secretary who put in place a federal version of a state law President Barack Obama opposed in Illinois to protect unborn children who survived botched abortions Jill Stanek has noticed what may become one of the biggest ironies of the 2012 election season. Politico reported yesterday that former Utah governor and Secretary of Health and Human Services Michael Leavitt "is the most important figure in Mitt Romney's campaign you may have never heard of," adding Leavitt "has been tapped to head Romney's transition process" and is being buzzed about by insider Republicans as Romney's potential chief-of-staff.
Planned Parenthood Prez: Poll Showing Pro-Lifers Winning "Irrelevant"
Planned Parenthood CEO Cecile Richards appeared on MSNBC's Morning Joe program on May 30 to tout her group's new anti-Romney ad. But the conversation veered onto other interesting topics, as I wrote in my previous post. One of those topics was the May 31 Gallup poll that found the number of Americans considering themselves "pro-choice" at a record low of 41 Morning Joe co-host Mika Brzezinski broached that topic with Richards and got this eye-rolling response.
Obamacare Premium Could Give Abortion Industry $1 Billion Yearly
An abortion premium in the Obamacare health care law received considerable attention during and after the debate on the controversial legislation. With the presidential election in full swing, the pro-life Alliance Defense Fund legal group has a new video out explaining the premium and how it could funnel as much as $1 billion to the abortion industry.

Planned Parenthood: Sex-Selection Abortions Bad, But Don't Ban Them
The Planned Parenthood abortion business must be feeling the heat for its opposition to the ban on sex-selection abortions — as one of its top officials has written a letter to the editor to the Washington Post to clarify its position. The letter seeks to assure Americans that Planned Parenthood truly does oppose sex-selection abortions — despite opposition to efforts to ban them and two expose' videos showing Planned Parenthood staffers willing to arrange them for potential abortion customers. In the letter, Chloë Cooney, director of global advocacy at the Planned Parenthood Federation of America, writes.

Republicans: Don't be Scared of Abortion, America's Pro-Life"Push Girls" Shows Respect for People With Disabilities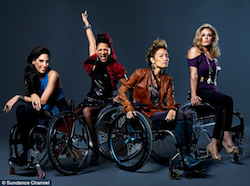 Life in a wheelchair is not as awful as you might think. Last night, the Sundance Channel premiered Push Girls, a new reality series about four women in wheelchairs. All of them have spinal cord injuries at various levels, three from car accidents, one from a ruptured blood clot in her spinal cord. I watched the first episode online here yesterday afternoon. I wouldn't exactly call it family-friendly television – maybe it will get better, but as for the first episode, one of the girls talks openly about an on-again-off-again sexual relationship (yes, we can still have sex and get pregnant) she's in with a man and then the cameras follow her to a club on a date with another woman – but I'm excited about this series, nonetheless. It's great not because it shows the challenges that those of us in wheelchairs face, but for showing what we're still capable of and how life can still be enjoyed post-injury.

Bishops Prepare for Largest Civil Disobedience Since the 60s
The United States Catholic bishops are readying American Catholics for what may be the largest campaign of civil disobedience since the Civil Rights Movement of the 1960's. In addition to 12 lawsuits against the Obama Administration including 46 plaintiffs from dioceses, hospitals and universities, the US Catholic bishops will urge Catholics to openly defy the Obama HHS Mandate. In June, the United States Conference of Catholic Bishops (USCCB) will distribute bulletin inserts nationwide, which reference Dr. Martin Luther King, Jr. and his call for civil disobedience in response to unjust laws.

Romney Adviser: He'll Govern as A Pro-Life President
Top surrogates for President Barack Obama and Mitt Romney feuded on pro-life and abortion issues in an interview this weekend on ABC's weekend political talk show hosted by George Stephanopoulos. During the interview, Romney's senior campaign adviser, Eric Fehrnstrom, said Romney would govern as a pro-life president and said Obama and his campaign's rhetoric of a sp-called "War on Women" is inaccurate. "Mitt Romney is pro-life," he said. "He'll govern as a pro-life president, but you're going to see the Democrats use all sorts of shiny objects to distract people's attention from the Obama performance on the economy."

Clinic in Ohio Closes, Botched Multiple Abortions on Women
An abortion clinic in Ohio that was found to have botched multiple abortions on women is now closing, according to information Operation Rescue provided to LifeNews over the weekend. Previously, medical transcripts leaked to Operation Rescue by a confidential informant through a third party revealed a pattern of botched abortions and violations of health and safety regulations at Capital Care Women's Center, an abortion clinic in Columbus, Ohio. The group said they "paint a grisly portrait of an unsafe abortion business that routinely injures women and violates the law," but, now, Capital is closing up shop.

Battle Against Obama's HHS Mandate Not Just for Catholics
In a country as great as the United States of America, where even in hard times we are surrounded by plenty, it's easy to get comfortable. And in that lax condition, certain freedoms are taken for granted until they are overtly threatened. For example, religious freedom has long been assumed safe by myriads of Americans who may or may not even attend a church or synagogue regularly. The steeples on the country hillsides, as well as those pointing upward here and there amid the city skylines, are a stark reminder of the religious heritage of this nation, and many assume what once was always will be.

3,700 Die From Abortion Daily, Save as Many as You Can
In recent weeks, I have been so happy to share with you the joyous news of the six babies that were saved from abortion thanks to the work of our student groups. Every time I hear one of those stories it energizes and inspires me. Like the one I heard the other day from a student leader, Julia, in Arkansas. Early last week, Julia emailed our team asking us to send out a prayer request for a young mother she knew who was considering abortion. So we posted the alert to our social media sites and prayed. But late last week, I got another email from Julia who said that despite her best efforts and our prayers, the young woman had gone through with aborting her 24-week son.

Doctors Arrested Who Fed Aborted Baby Girls to Dogs
Two doctors who fed the bodies of aborted baby girls to dogs in order to hide cases of sex-selection abortions in India has been arrested. Some physicians in the city of Beed, India are engaging in the practice, according to India Today, which spoke with Varsha Deshpande of Lek Ladki Abhiyan, an NGO working against the practice. Maharashtra's Public Health Minister Suresh Shetty also admitted to the newspaper that he had heard of reports of the practice taking place.

Rejecting Abortion: a 16-Year-Old's Selfless Act of Love
I'm one of those people that can throw around that word a lot. LOVE. My husband. My kids. My girl friends. My Embrace Grace mommas. My grandmother. My housekeeper (she's amazing). "I LOVE YOU!" January of 2011 began a season that awakened my heart and opened my eyes to a profound level of LOVE that I had never encountered before. This stirring happened from the most unlikely of sources that eventually turned into a friendship that I will treasure forever. Her name was Jayd.

Join The June 8 Stand Up for Religious Freedom Rally On Friday, tens of thousands of Americans will participate in the second round of the Stand Up For Religious Freedom rallies that will take place across the United States. The first round of rallies saw more than 60,000 people join rallies at dozens of locations nationwide to express their opposition to the HHS mandate the Obama administration put in place that requires religious groups to pay for birth control and abortion-causing drugs for their employees.

"No Uterus, No Opinion" – Can Men Have a Say on Abortion? When arguing with supporters of legal abortion, the debate invariably turns, if the person promoting the pro-life perspective is a man, to the question of whether men should have any say on the topic of abortion. Oddly, the insistence that pro-life men not have an opinion on abortion is almost never applied to men who favor abortion — they're always allowed to promote abortion despite the fact that they can't have an abortion either.

Florida Abortions Drop Again After New Pro-Life Laws After the Florida legislature put several new pro-life laws in place, the state has seen a further drop in the number of abortions done.

Planned Parenthood Takes on North Dakota Religious Liberty Measure Voters in North Dakota will consider on their ballots next week a measure including one that protects religious freedom.

Pro-Life Group's Computers Seized, Fights "Pro-Life Democrat's" Lawsuit A top-tier pro-life organization is still fighting a lawsuit from a former "pro-life Democratic" member of Congress who filed suit against the Susan B. Anthony List after it sought to run ads exposing his vote for pro-abortion Obamacare.

Pro-Abortion Web Site Hits Hillsdale College's Pro-Life Views There are few better online suppliers of premium-grade pro-abortion deceit and hysteria than RH Reality Check, a website whose "evidence-based" approach to "reproductive & sexual health and justice" can't help but elicit guffaws from those who know better.

Planned Parenthood Groupthink Justifies Abortion for Any Reason A question I often pose to students as we study literature that takes place during the Holocaust is whether or not every Nazi soldier was a killer at heart or just following the protocol of the organization. It's so easy for us to make blanket statements that they are all evil, but the fact is, many were passive people who succumbed to groupthink and didn't actually consider their evil actions. They were absolutely guilty of them, but they hid behind the "orders" given them, the perceived "good" for the nation and the race.

Planned Parenthood Denies Equal Rights for Unborn Feminists When you're on the wrong side of Planned Parenthood, you're on the right side of history.

Video: Chris Smith Gets Pro-Life Award for Standing Against Abortion This past week, Americans United for Life honored pro-life champion and New Jersey Congressman Chris Smith with the 2012 Henry J. Hyde Defender of Life Award for his leadership on pro-life issues in the House of Representatives.

Louisiana House Unanimously OKs 20-Week Abortion Ban On Friday afternoon, the Louisiana House passed SB 766, the Pain Capable Unborn Child Protection Act, a bill that would ban abortions after 20 weeks of pregnancy based on the science showing unborn children feel pain at that point.

"Bioethics" Journal Pushes Organ Donations on Living Patients Here we go again! The push to transform the most ill and disabled living human bodies into so many organ farms continues among some bioethicists and within organ transplant ethical discourse. Now, an article in the American Journal of Bioethics, written by organ surgeon and medical professor Paul E Morrissey, urges that patients who are going to have life support removed and then become organ donors after death, instead have their kidneys harvested while still alive.

China's One-Child Policy Traced to Roman Population Control Last week, the Washington Times carried a powerful op-ed by Robert Zubrin, a senior fellow the Center for Security Policy, tracing the intellectual roots of China's brutal one-child policy to the population-control movement including the Club of Rome.

Why Won't the Abortion Industry Follow Legitimate Health Standards?It's not a secret that the president and the abortion industry want all of America to believe that there is a "War on Women." Besides the fact that myself and many others believe that this war is a political scheme, it's also being spouted by the very side who is engaging the real war on women.

Man Kills Pregnant Wife, Unborn Baby to Hide Affair Seth Techel, a 21-year old man from Agency, Iowa has been arrested and charged with first-degree murder and the "nonconsensual termination of a human pregnancy." The victims were his pregnant wife Lisa Techel and their unborn child Zoey Maria. Lisa was 17 weeks along in her pregnancy.

---
Tags:
pro-life, news
To share or post to your site, click on "Post Link". Please mention / link to the Greater Fitchburg For Life. Thanks!