Wendy Davis Makes Over $1 Million Filibustering for Late-Term Abortions
How much money can a state Senator from Texas make for her campaign account by filibustering against a bill to ban late-term abortions? "Texas state Senator Wendy Davis has reaped nearly $1 million in political donations since she staged a nearly 11-hour filibuster that ultimately failed to stop the Texas legislature approving stringent new restrictions on abortion in the state, her office said on Monday," according to Reuters.
Read More
Former Gosnell Abortion Worker is Finding God, Becoming Pro-Life
The former employee of the late-term abortion clinic Kermit Gosnell ran saw the worst of the worst in the abortion industry. From dilapidated conditions, to late-term abortions and from infanticide of babies born alive to the killing and injuring of patients, the employees at the Philadelphia-based abortion business likely have a significant amount of emotional distress and mental and spiritual health issues they are dealing with now.
Read More
Students Embrace "BroChoice," Want Abortions Legal for Sex Without Consequences
A new video shows college students embracing the pro-abortion "BroChoice" campaign that says abortion should remain legal so men can enjoy sex without consequences like taking care of a baby or paying child support. Last week, pro-abortion blogger Ben Sherman explained the #brochoice movement, saying that if abortion isn't readily accessible, especially in his state of Texas, men's sex lives are at stake. It was the ultimate form of male-chauvinism, yet NARAL and other pro-abortion women's groups took to Twitter in support of the campaign.
Read More
Man Defends Daughter's Sign: "Jesus Isn't a D—, Keep Him Out of My Vagina"
Last week, during the pro-abortion protests leading up to the Texas vote on the late-term abortion ban, the Internet was shocked to see a young girl hold a sign saying "Jesus Isn't a D—, Keep Him Out of May Vagina." A man on Twitter is accepting responsibility for the sign, saying his young daughter made it and had her friend hold it.
Read More
Pro-Abortion Texas Man With "No Rape Babies" Sign Defends Holding It
The pro-abortion activist who held a sign saying "No Rape Babies" during the protests leading up to the Texas late-term abortion ban has no remorse over holding the sign. Billy Joe Cain is an Austin resident who is a video game producer and he is the same man whose daughter made a sign saying, "Jesus Isn't a D—, Keep Him Out of May Vagina."
Read More
"No Rape Babies:" Abortion Activist's Sign Draws Pro-Life Outrage
There was no shortage of offensive signs carried last week by abortion activists mobbing the Texas legislature to oppose the bill to ban late-term abortions after 20 weeks of pregnancy. One sign that received significant negative attention this weekend read, "No rape babies."
Read More
Texas Abortionist Lester Minto Plans to Flout New Law, Do Illegal Abortions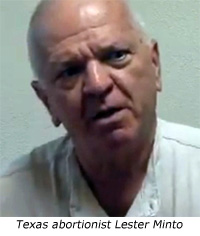 Abortionist Lester Minto is defiant concerning new safety standards passed by the Texas Legislature last week, especially concerning the new standards for dispensing abortion pills. He operates Reproductive Services, an abortion clinic in the Rio Grand Valley community of Harlingen that does 1,500-2,000 abortion per year, according to a New York Times story published on July 13, 2013. If forced to comply with the new law, Minto says he is willing to seek other means of continuing to provide abortions, even if his substandard clinic must close.
Read More
---
Tags:
Pro-Life, News
To share or post to your site, click on "Post Link". Please mention / link to the Greater Fitchburg For Life. Thanks!